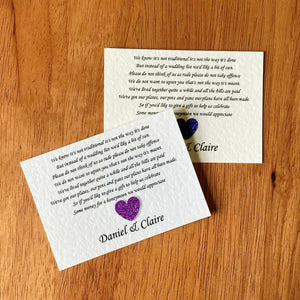 OLIVIA Gift Poem Card - Glitter
Minimum order quantity 10

These small poem cards are A7 in size quality 300gsm white and ivory hammered card or 280gsm brown kraft card. This simple elegant design features a glitter heart.
We offer 3 standard poems to choose from. Simply type A, B or C in the wording box along with the name of the happy couple for your required poem or you can add your own if you'd prefer.
A
More than just kisses so far we've shared,
Our home has been made with Love and Care,
Most things we need we've already got, 
And in our home we can't fit a lot!
A wishing well we thought would be great,
(But only if you wish to participate),
A gift of money is placed in the well,
Then make a wish .... but shhh don't tell!
Once we've replaced the old with the new,
We can look back and say it was thanks to you!
And in return for your kindness, we're sure 
That one day soon you will get what you wished for.
John and Elizabeth
B 
We know it's not traditional it's not the way it's done
But instead of a wedding list we'd like a bit of sun.
Please do not think of us as rude please do not take offence
We do not want to upset you that's not the way it's meant.
We've lived together quite a while and all the bills are paid
We've got our plates, our pots and pans our plans have all been made.
So if you'd like to give a gift to help us celebrate
Some money for a honeymoon we would appreciate
Elizabeth and John
C
We are sending out this invitation, 
And hope you will join our celebration. 
If to send a gift is your intention, 
In modesty we would like to mention, 
We have already got a kettle and a toaster, 
Crockery, dinner mats and coasters, 
So rather than something we have already got, 
Please give us money for our saving pot. 
But, most importantly, we request, 
That you turn up as our wedding guest
Elizabeth and John
We also sell matching invitations, order of service front covers, place cards and thank you notes.